Metro Seating Components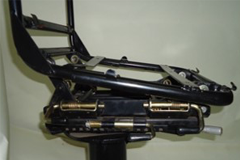 Metro Seating Components
Product Description
Metro Seating Components we deal in are specifically constructed to suit needs of modern day metros. We have with us a crew of talented experts who work round the clock at our facilities like our design wing, tool room and R&D centre to come up with innovative and leading edge products. Under our range, we can offer various high strength products including Metal Frames (Mild Steel & Stainless Steel), Polyurethane or PU Foam, Upholstery, Trim Covers, and the likes, all of which can also be tailor made in customers specified designs. Today, we can construct and finely finish fully assembled metro seats in various designs and types.
Metro Seating Components Features:
Hi tech machinery like cutting machines, multi axis bending machine, PU machines, etc., used for product development and design.
Components can be availed in various makes and models.
Options provided for manufacturing customized components.
Seating components fabricated as per modern urban and outdoor design.